Dear Campers, Parents, Staff, Alums & Friends,
We are back in the desert, and it is hot, hot, hot!  We know we're going to be happy being back in Tucson in a month or so when things cool down, but for now we sometimes have to scratch our heads and wonder.  It is so beautiful in the North Woods this time of year, and we really miss it.  All the more difficult to pack up and leave camp when we have just experienced such a fun, happy, and meaningful summer.  We didn't want to make too big a deal about it, but we may have mentioned a few hundred times that last summer was our
50th year of camping, and there's just no doubt that it was our best ever in all respects.  Great kids, great staff, great weather, and fantastic energy all summer long! 
And we had the great pleasure of following up the summer with our 50th Anniversary Reunion at camp, which began the day after our campers went home.  It could not have been a more enjoyable weekend.  We had about 125 alumni join us.  The weather was perfect for all of our outdoor activities, including skiing, climbing, mountain biking, and much more.  We got completely poured on that first evening, but that's okay…we were in the Rec Hall watching the 50th Reunion video anyway.  It cleared up on Saturday and we had such a great time.  And the best news was we had only one pulled hamstring the whole weekend long!  Not bad for a bunch of geezers pretending that they were campers again.  Bill Miller and the kitchen crew did an awesome job of feeding us, including appetizers each night before dinner.  On the 2nd night, they really outdid themselves with the delicate cuisine of sliced corn dogs and dipping sauce!  Yummy and very campy all at the same time.  We had a great campfire on the 2nd night, and on the last night of the event we had a little talent show that was fantastic.  One of our illustrious alums is actually a stand-up comedian, and he emceed the show for us.  He was hysterical, and all of the acts were really great!  We had a silent auction during the weekend, and all together, we raised nearly $5000 for Camp For All Kids, which we truly appreciate.  We want to thank our alumni and the staff who stayed and worked for making the weekend so enjoyable and successful.  We're including some photos from the event which we hope you like.
Of course, 2011 is going to be our 51st summer of camping (okay, okay, let's not make a huge deal of that either!), and we believe our best summer ever is coming up in a mere 9  months!!  First of all, it has been exciting to welcome our newest Associate Director, MIKE BREEN to our year 'round team, and he, Johnny, and I have been figuring out how we can all fit in the winter office at the same time.  A few elbows and forearm shivers have been thrown, but otherwise, we're setting in well, and very happy to have such an excellent crew helping us out here.  And we have been making some big plans for the program and facilities, which we're so excited about it.  We like to leak a little information here and there, and try not to get too far ahead of ourselves.  So, for now how 'bout we just tell you that we are already working on the construction of a brand new batting cage for our baseball program!  Pretty sweet!!  We're locating it between the Weight Shack and Bouldering Cave, and we're going to equip it with an Iron Mike pitching machine (only the best in the biz!).  This will give us lots of opportunities to work with you baseball players and give you plenty of swings.  And you have to know that this is not our biggest project for the upcoming
summer, right?  So read your newsletters, come to the reunions near you, and you'll learn all the juicy details as the summer approaches.
WE HOPE YOU'LL JOIN US IN 2011 AND BRING A FRIEND OR TWO FROM HOME!!  We have emailed all of you with re-enrollment information, and we just recently sent out a packet via US Mail to you as well.  As you'll see in a few lines, we already have several kids signed up for next summer, and we truly  appreciate all the enthusiasm we're hearing out there.  If you're ready to fill out an application online, it's easy!  You can just click here, and fill out the form from there.  Once we receive your submitted application, we'll send you an email confirming it, and you'll be on your way to another awesome summer!!
If you know of any friends or relatives who might be interested in camp, we'd love to hear about them too.  As you may know, nearly 100% of our new campers come to us from referrals made by current campers and parents.  That helps to keep our camp community close and friendly, and we truly value and appreciate the help and support we receive from so many of our camp families.  We truly could not do this without your help!  You can tell us about any prospective campers you may know either by sending us an email, or by completing our online Prospective Camper form.  Either way, we thank you in advance. 
REUNIONS START SOON!  In the coming weeks, we'll be lining up our list of camp reunions around the country.  Once we have that set, it will be posted online on our Reunions Link.  A months or so before the reunion near you, we'll mail you a notice/invitation, and we hope you can free up your time to join us.  We only get to do this once each winter in the various cities we travel to, and it's so great getting together with everyone.  We know you all have very busy schedules, both on weekends and weekday nights, but we urge you to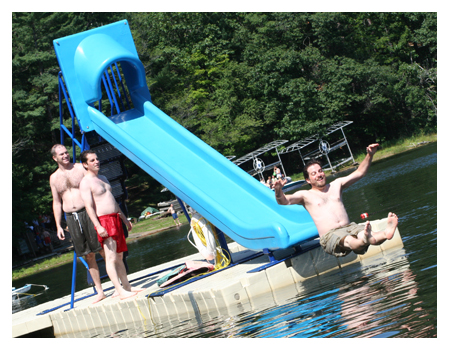 free up the time to reconnect with camp this one time each winter.  It means a lot to those of us traveling long distances to see you, and we think it will also be very meaningful to all of you.  So we'll see you this winter, right?  So far , here's what we know:
| | | |
| --- | --- | --- |
| City | Date | Time |
| St. Louis | Saturday, October 16th | 2:00 pm |
| Chicago | Saturday, November 6th | 12:00 pm |
 WELCOME BACK TO THE FOLLOWING "OLD-TIMERS" WHO HAVE RE-ENROLLED: DILLON GROSS of Bannockburn, IL; LOGAN SEIDEN of Buffalo Grove, IL; HENRY LOVETT of Los Angels, CA; AARON BERKOWITZ and RICKY JACBOSON of Deerfield, IL; WILL COEN, JASON GARLAND, and BEN REMIS of St. Louis, MO; JONAS MONIESON, DAVID RINGEL, and ZACK SCHREIER of Glencoe, IL; NOAH KRAUS of Highland Park, IL; ALEX FREEDMAN and MATTHEW & TYLER JACOBS of Nashville, TN; JAKE FEIGER  and ZACH WALDEN of Northbrook, IL; JOEY BURSTEN, CAMERON CAVALIER, JOSEPH KUPERMAN, GRAYSON SHEENA, and HAYDEN TURK of Bellaire, TX; JACK KAPLAN and JONAH ROSENBERG of Houston, TX; and JEFFREY GOLD of Sugarland, TX. 
And welcome aboard to ADAM RUBIN of Glencoe, IL, who will join us for his first time this summer!  Glad to have you all with us!!
Okay, folks, we're gonna need some help from you to fill in the blanks in this section of the "Timberlife!" each month.  It's easy to send us information about you.  You can just email us, or you can give us a quick call.  We hate to make stuff up about you, but we're willing to if we have to.  So let's not get to that point, okay?  We have heard that RYAN WAGNER is in Chicago and auditioning for a play at his high school.  RYAN & JUSTIN GALOWICH were up in the north woods near camp for a weekend back in August.  In St. Louis, MAX GOLDENBERG is having a great start of the school year at his new school.  Here in Tucson, MARIO GADEA is playing football on his high school's freshman team.  COLE ECKEL was spotted heading out to either tennis or cross country practice at his school.  Yep…that's all we've got.  We definitely need more for next month, okay?
  Same message for you staff-types too!  We'd love to hear from you and keep the kids posted on your life away from camp.  Yes, we know you all actually have a life during the "off-season," and we love hearing about it.  So please, don't be shy! MAX KAPLAN is in Houston and working on his Eagle Scout project, helping to raise money to support patients receiving advanced medical care at a hospital in Houston.  RICH MC GOWAN is in Chicago "knee-
deep" in job searches.  JEREMY SUTTON has arrived at school in Montreal, and just beginning classes at McGill University.  MAX WEINTRAUB has started classes here at the U of A, and he must be having a lot of fun, 'cause we can't seem to get him to return phone calls!  JEFF MELROSE has been playing his traditional and annual host and tour guide of Walt Disney World, so far showing JEMS TODD and JAMES WOOD a great time.  KATHY LEVERTON is on her way to Florida to hang out with Mel, and has so far hit up national parks like Yosemite, Zion, Bryce, and the Grand Canyon.  She's also visited San Francisco, and New Orleans and hung out with ALLI DOYLE in Seattle.  What a tour!    
BRAVO TO OUR SEPTEMBER BIRTHDAY BOYS!  Jake Feiger – 9/2/1997, Greg Fus – 9/4/1955, Fletcher Jones – 9/6/1987, Rick Jones – 9/9/1957, Ben Percifield – 9/10/1993, Jeremy Sus – 9/10/1998, Scott Wolf – 9/11/1991, David Langebartel – 9/14/1993, David Tamsky – 9/15/1999, Steve Wezelman – 9/16/1995, David Artzi – 9/17/1993, Dusty Cohen – 9/17/1993, Jordan Fishel – 9/17/1997, Jack Ross – 9/17/1998, Ludwig Nolasco Ruiz – 9/18/1987, Jordan Allen – 9/20/1997, Ross Sinar – 9/21/1996, Max Westmark – 9/21/1998, Andrew Cramin – 9/22/1999, Noah Kerwin – 9/22/1996, Ian Brown – 9/25/1986, Lee Goodman – 9/27/1996, Noah Lowenstein – 9/27/1996, Chris Tompkins – 9/28/1998, Josh Skrill – 9/29/1998, Max Weintraub – 9/29/1991, Jack Elowe – 9/30/1997.
Folks, please be sure to let everyone in your family and the range of your voice know that the newsletter is posted.  We will email you each month after the newest issue is ready for you, but we can use your help to make sure everyone is paying attention.  Thanks very, very much.  Have a great remainder of September, and we'll write you again early next month.
Benches up,